Buckinghamshire horse feed merchants and country stores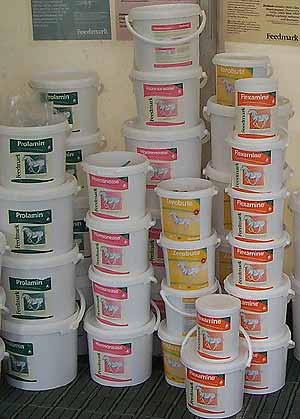 Where to find Buckinghamshire horse feed merchants, equestrian stores, suppliers and stockists of hay, haylage, food, mixes, oats, straw, shavings, wormers, bedding, aubiose and vitamin & mineral supplements.
Equine feedstuff and country stores in Aylesbury, Chesham, Gerrards Cross, High Wycombe, Lacey Green, Milton Keynes, Slough, Wexham, Whitchurch and other areas of Bucks.
If you own or run a Horse Feed Merchants or supply hay or straw and would like to be listed on this websiteplease
Aston Clinton Feeds and Equestrian Supplies - Aylesbury
Masons Meadow, Seven Acre Farm, 7 Aylesbury Rd, Aston Clinton, Aylesbury, Buckinghamshire HP22 5AH Telephone: 01296 633325
Bellingdon End Farm Horse Supplies - Chesham
Horse Feed and Bedding, Saddlery, Stable Accessories, Rugs and Country Clothing
Bellingdon End Farm, Bellingdon, Chesham, Buckinghamshire HP5 2UR
Phone: 0845 370700
Bow Brickhill Animal Feeds - Milton Keynes
Suppliers of Spillers Horse Feed in Buckinghamshire
Brickhill Rd, Bow Brickshill, Milton Keynes, Buckinghamshire, MK17 9FE Telephone: 01908 373130
Hunters Farm Shop - Milton Keynes
Stockists of Baileys Horse Feed
Little Brickhill, Milton Keynes, Bucks MK17 9DW. Telephone: 01908 377537
I D Gordon - Gerrards Cross
Horse feed merchants - Suppliers of Baileys Horse Feed
Isle of Wight Farm, Gerrards Cross, Buckinghamshire SL9 0QD
Email: iowfarm@btinternet.com Phone: 01753 882855
J and S Whitby - Wexham
Rowley Farm, Black Park Rd, Wexham, Slough, Bucks SL3 6DR
Email: trilly@rowleyfarm.co.uk Telephone: 01753 521856
Kimblewick Feeds - Chesham
Allsorts Farm, Botley Rd, Ley Hill, Chesham, Buckinghamshire HP5 1XN
Telephone: 01494 774377
Penn Equine Feed & Tack Horse Supplies - High Wycombe
Suppliers of Horse Feed and Bedding, Feed Supplements, Wormers, Rugs Grooming Kit Hats, Boots, Jodhpurs etc
Chiltern Yard, Hammersley Lane, Penn, High Wycombe, Buckinghamshire HP10 8HF
Telephone: 01494 811999
RB Equestrian - Milton Keynes
Lower Rectory Farm, Great Brickhill, Milton Keynes, Bucks Phone: 01908 365611
Widmer Feeds Limited - Lacey Green
Pink Rd, Lacey Green, Buckinghamshire, HP27 0PG. Telephone: 01844 344765
Willowbrook Farm Feed and Equestrian - Whitchurch
Stockists of Baileys Horse Feed
Willowbrook Farm, Bushmead Road, Whitchurch, Aylesbury, Bucks HP22 4LG
Email: willow.brook@btconnect.com Telephone: 01296 681888
Buckinghamshire horse feed suppliers, horse feed merchants, supplements in Bucks.