Seaweed and Kelp Supplements for Horses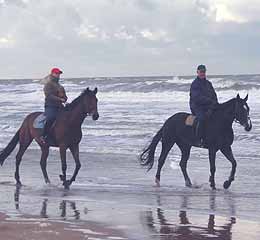 Horse feed supplements derived from seaweed or kelp have been developed to add trace minerals, especially iodine, that may be missing in a horse's basic feed ration.
Equine Seaweed supplements contain minerals, amino acids and vitamins.
There has been a lot of debate and controversy in the equestrian world about the potential benefits to be gained from feeding equine seaweed supplements to horses - which will be discussed and reviewed here.
There is a danger that iodine toxicities occur when a horse is fed too much seaweed - but, if fed with care, kelp and seaweed can provide unique benefits to a horse's health.
In the Orkney Islands, off the mainland of Scotland, it was noticed that sheep grazing on seaweed were generally in better overall condition and had more resistance to illness, especially coughs andrespiratory problems such as COPD and SPAOD. This led to the development of specialised feed additives based on sea weed and kelp.
It appears that the reason seaweed and kelp may benefit horses and ponies is in both the combination of nutrients and the content of Algin.
It is the iodine content of the seaweeds and kelp used in an equine supplement that is most important.
IODINE IN SEAWEED AND KELP SUPPLEMENTS
Iodine is a key trace element in nutrition.
It enters into the life of every cell in the body and its more decisive action is its effect upon the thyroid gland, which, through its secretion of thyroxine, controls the rate of metabolism.
There is a delicate balance to be maintained when feeding equine feed supplements containing iodine. While deficiencies of iodine in a horse's diet can cause goiter in foals, excessive levels of iodine have also been known to cause this condition
Careful studying of the label should reveal the amount of iodine in a feed supplement.
If you have any doubts about the amounts of iodine in a chosen equine kelp supplement it is safer not to add this to a horse or pony's feed.
Advice about the benefits of feeding seaweed an kelp supplements to a horse or pony