Livery yards, stables, DIY Livery and grazing in East Sussex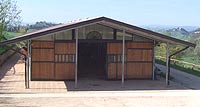 We can help you find the right livery yard or stable in East Sussex.
Whether you are looking for DIY, Grazing or to rent stables or are looking for Full or Part Livery offering a range of livery including grooming, turnout, tack cleaning, indoor schools, outdoor arenas, off road hacking, lungeing circles, horse-walkers etc - you should be able to find what you are looking for here.
We have listings for livery yards, grazing, stables and equestrian centres in Battle, Bexhill-On-Sea, Crowborough, Hailsham, Hastings, Iden, Hartfield, Lewes, Mayfield, Polegate, Pycombe, Rye, St. Leonards-On-Sea, Staplecross, Uckfield, Wadhurst
Ashdown Forest Riding Centre - Uckfield
Whitehouse Farm, Duddleswell, Uckfield, East Sussex TN22 3JA
Telephone: 01825 712108
Beauport Park Riding Stables - St. Leonards-On-Sea
Hastings Road, St. Leonards-On-Sea TN38 8EA Telephone: 01424 851424
Blue Rock Livery Yard - Hartfield
24 Hour Supervision, 90 acres of grazing, 12 x 12 Stables, 100m x 50m gel track arena, Round Pen, All year grazing, Indoor and Outdoor Schools, 2 Furlong Oval All Weather Track, Equissage Massage Equipment, access to riding in Ashdown Forest, Claydon horse walker, Lorry and trailer parking, riders shower facilities, fully alarmed tack room.
Blue Rock Livery Yard, Chuck Hatch, Hartfield, East Sussex, TN7 4EX Email justine@bluerocklivery.co.uk | Telephone 01892 770416 | Mobile 07976 745295
Ellenwhorne Equestrian Centre - Staplecross
Stocklands Farm, Ellenwhorne Lane, Staplecross, Robertsbridge, East Sussex TN32 5RT Tel: 01580 831266
Folkington Manor Stables - Polegate
Folkington, Polegate, East Sussex BN26 5SD Telephone: 01323 482437
Grey Stud - Bexhill-On-Sea
Whydown Road, Whydown, Bexhill-On-Sea TN39 4RB Telephone: 01424 846123
Green Livery - Beckley
Green Livery - situated on a quiet country lane within the village of Beckley on the East Sussex/Kent border. Facilities include secure tack room, large boxes with rubber matting, 20 x 40 sand and rubber arena with lighting, parking for trailers and horseboxes, horse walker, summer jumping paddock, tea and coffee facilities, wc. Horses turned out in small groups, post & rail fencing, well maintained electric, automatic water in paddocks.
Email : Tara.knight83@yahoo.co.uk Telephone : 07722 751885
Golden Cross Equestrian Centre - Hailsham
Chalvington Road, Golden Cross, Hailsham, East Sussex BN27 3SS Tel: 01825 873022
Grove Farm Riding School - Iden
Grove Lane, Iden, Rye, East Sussex TN31 7PX Telephone: 01797 280362
Hamsey Riding School - Lewes
Hope in the Valley, Brighton Road, Lewes, East Sussex BN7 3JH
Telephone: 01273 477120
Hugo Payne Eventing - Cross in Hand
Full, Part, Schooling and Sales Livery Available. Short or long term Training livery options available for horse and rider. Facilities include 20 x 40 Arena with Show Jumps, Secure tack room, Wash box with hot and cold running water
Greenvale Farm Browns Lane Cross in Hand East Sussex TN21 0QJ
Contact Hugo : 07950 328087 E-mail: hugo@hugopayneeventing.co.uk Telephone Contact Katherine: 07780 112296 Email: katherine@hugopayneeventing.co.uk? Evening Telephone: 01435 860828
Hyfield Stables - St. Leonards-On-Sea
Hyfield Stables, Swainham Lane, St. Leonards-On-Sea, East Sussex TN38 8ED
Telephone: 01424 830416
Hylands Stables - Hailsham
2 Highlands Farm Cottages, Arlington Road West, Hailsham, East Sussex BN27 3RD Telephone: 01323 846797
J C Phillips - Lewes
Church Farm House, Ripe, Lewes, East Sussex BN8 6AU Telephone: 01323 811292
Little Cophall Stables - Polegate
Hailsham Road, Polegate, East Sussex BN26 6NL Telephone: 01323 483975
Little Tidebrook Farm - Wadhurst
Sally Marley-Ward, Little Tidebrook Farm, Riseden Road, Wadhurst TN5 6NY
Telephone: 01892 782688
Lower Barn Stables - Hartfield
Faircote Stud Farm, Chuck Hatch, Hartfield, East Sussex TN7 4EX
Telephone: 01892 770557
Manor House Stable - Battle
Glengorse Estate, Glengorse, Battle, East Sussex TN33 0TX Telephone: 01424 777302
Meadowbank Equestrian Centre - Hailsham
Gassons Farm, Downash, Hailsham, East Sussex BN27 2RP Telephone: 01323 848777
Mitchelswood Farm - Lewes
Allington Road, Newick, Lewes, East Sussex BN8 4NH Telephone: 01825 722296
Orchid Riding School and Livery Stables -Crowborough
Walshes Road, Crowborough, East Sussex TN6 3RE Telephone: 01892 652020
Petley Wood Equestrian Centre - Battle
Petley Farm, Marley Lane, Battle, East Sussex TN33 0RE Telephone: 01424 871677
Pippingford Manor Liveries - Uckfield
Pippingford Park Manor, Millbrook Hill, Nutley, Uckfield, East Sussex TN22 3HW Telephone: 01342 323934
Rowebuck Stud Equestrian Centre - near Lewes
Facilities include Individual and group turnout. 50 x 25m indoor floodlit and 60 x 40m outdoor arenas with show jumps. Cross country training jumps. 1000 meter all weather canter track. Lunging area. Horse walker. Hot water wash bays.
Rowebuck Stud Station Road Isfield East Sussex TN22 5XG
Contact Elliott: 07739 417777 email: elliott-rowe@hotmail.co.uk.
Robin Post Stables - Hailsham
Robin Post Lane, Arlington Road West, Hailsham, BN27 3RA
Telephone: 01323 442500
Rushers Cross Farm Livery - Mayfield
Rushers Cross Farm, Rushers Cross, Mayfield TN20 6PX Telephone: 01435 872466
Slyes Farm Equestrian Centre - Hailsham
Downash, Hailsham, East Sussex BN27 2RP Telephone: 01323 848989
St. Francis Farm Livery Stables - Bexhill-On-Sea
Potmans Lane, Bexhill-On-Sea, East Sussex TN39 5JL Telephone: 01424 892822
The Three Greys Riding School - Pyecombe
All Weather Riding Arena
Clayton Hill, Pyecombe, Brighton, East Sussex BN45 7FF Telephone: 01273 843536


Westfield Farm Equestrian Centre - Hailsham
Westfield Farm, Downash, Hailsham, East Sussex BN27 2RP
Telephone: 01323 849773
Whydown Equestrian Centre - Bexhill-On-Sea
The Coach House, Whydown Place, Whydown Road, Bexhill-On-Sea TN39 4RA
Telephone: 01424 848169
East Sussex Livery Stables - Grazing, Grass, DIY, Full and Part livery yards for horses