Horse transport, horsebox and trailer hire in Berkshire UK
If you are looking to hire a horsebox in Berkshire UK it's important to know that legislation for horse transport operators came into force in the UK in May 2008.
The new legislation requires that anyone responsible for transporting horses commercially on journeys of over 8 hours or 65 km must hold a valid certificate of competance.
When booking or hiring horse transport you should check that whoever will be responsible for transporting your horse or pony has a current certificate of competance. It is also advisable to check that the operator is fully insured.
If you own or run a horsebox hire or horse transport company and would like to be listed on this website please
AAA Horse Transport - Thatcham
Family run horse transport company
19 Stirling Way, Thatcham, Berks RG18 3FW
Tel: 01635 873688 Mobile 1: 07846110636 Mobile 2: 07765412415
Email: aaahorsetrans@aol.com | Website
J C Berry and Partner - Horse Transporters - Sunninghill
Home Farm, Sunninghill Park, Sunninghill, Berkshire, SL5 7RQ
Telephone: 01344 620858
Bracknell Horse Transport
Binfield Road, Wokingham, Berkshire RG40 1SL Phone: 01344 860566
B R T Horse Transport International Ltd - Newbury
Based in Berkshire - Serving Ireland & Europe.
Parsonage Farm Stud, Newbury, Berkshire RG17 7FR,
Telephone: 00 336216 31979 / 07966 017575
Edward James Shipping and Transport - Hungerford
Mask Cottage, East Garston, Hungerford, West Berkshire, RG17 7EU.
Phone: 01488 648077
Ian Davis Horse Transport - Hungerford
Based Berkshire. National & Europe shipping.
Ermin Street Stables, Ermin St, Lambourn Woodlands, Hungerford, Berkshire RG17 7BL Telephone: 01672 541189
Lambourn Racehorse Transport Limited - Hungerford
Delamere Paddock, Baydon Road, Lambourn, Hungerford, Berkshire RG17 8NT
Telephone: 01488 71710
LC Horse Transport - Hungerford
3 Beales Farm Road, Lambourn, Hungerford, Berkshire RG17 8PZ
Telephone: 01488 72856
Newbury Equine
Horse transportation for Berkshire, Hampshire, Wiltshire, Oxfordshire, and throughout the UK.
Whether it's that essential trip to the vet, a yard-to-yard relocation, taking a mare to stud or to a competition or the races, Newbury Equine provides horse transportation services, delivered with the utmost care and safety.
Phone: 07827 968061 email: colin@newburyequine.co.uk
O'Mara Equine Transport Limited - Thatcham
Unit 3-4 Hermitage Farm, Oare, Thatcham, Berkshire RG18 9SD
Phone: 01635 202529 / 07917 352342
horse-transportation.co.uk - Bracknell
39 Westmorland Drive, Warfield, Bracknell, Berkshire RG42 3QN
Telephone: 07860 158052
Parkes International Transport Ltd - Newbury
24 hour service.
Penwood Lodge, Penwood, Burghclere, Newbury, Berkshire RG20 9EX Telephone: 01635 254111
RentaHorsebox.com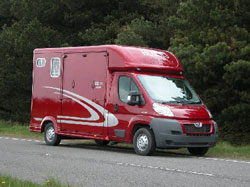 Self drive horse box for hire.
Drive your horse in style and safety in this side loading Equitrek box
Easy to drive, and very economical, can be driven on a car licence if driving test was taken before 1999, insurance included.
Day living and plenty of storage space. Private Hire Only Short or long term hire available, rates negotiable.
Based in Highclere, South West Newbury just off the A34 Hampshire/Berkshire Border.
Call 07740 582659 for more details or see our website www.rentahorsebox.com
Sarah Nash Horse Transport - Reading
Milley Lane, Hare Hatch, Reading, Berkshire RG10 9TH Telephone: 0118 940 2918
Wentworth Equine Travel - Reading
Self drive horsebox hire
Elm Villa, Crazies Hill, Reading, Berkshire RG10 8LU Telephone: 07946 451629
---
---