Somerset - Livery Yards and stables - Full, DIY or Grass Livery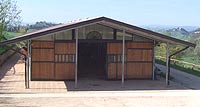 Livery yards, Equestrian Centres and Riding Schools in Somerset providing Full, Part or DIY Livery or grazing for your horse or pony.
We have a good selection of equestrian establishments listed here offering a variety of horse and pony livery facilities including cross country courses, outdoor arenas and indoor schools, show jumps, horse walkers, therapy centres, on site training etc.
We have livery yards and stables listed in Chard, Dulverton, Exford, Langport, Ilminster, Taunton, Wells
Burcott Riding Centre - Wells
Burcott Lane, Lower Burcott, Wells, Somerset BA5 1NQ Phone: 01749 673145
Comeytrowe Equestrian - Taunton
BHS Approved Livery Yard, Convalescence & Rehabilitation, 24 / 7 Onsite Supervision Comeytrowe Equestrian, Higher Comeytrowe Farm, Higher Comeytrowe, Taunton, Somerset TA4 1EQ Tel: 01823 461385 Mobile: 07828 779423
Court Farm Stables - Exford
Exford, Somerset TA24 7LY Phone: 01643 831207
Curland Equestrian Centre
Curland Equestrian Centre Crosses Farm, Curland, Taunton, Somerset TA3 5SD
Dovecote Stables - Chard
ABRS Approved Equestrian Centre in the Blackdown Hills, specialising in schoolmaster lessons on classically trained Andalucian and Friesian horses. Individuals and clinics. Lunge and video lessons available. Beinners to advanced. Improve skills and confidence. Learn high school dressage moves. Competitive rates and discounts for advanced booking. Excellent local accommodation. Livery and schooling available.
Convenient location: 5 mins south A303 Eagle Cross •60m x 30m rubber and sand arena with fabulous views
•Ample parking
•Warm wash-down
•Alarmed tack room
•Whole yard area alarmed at night
•Individual turn-out on well-maintained paddocks
•Rug wash on site
Sam Twyman, Dovecote Stables, Scrapton Farm, Wadeford, Chard, Somerset TA20 3AT
Phone: 01460 66990 Mobile 07709 977400 email info@dovecote-stables.co.uk

Drakes Farm Riding Centre
Livery is offered at various levels from basic to full livery. All the stables on the farm are housed in the converted farm buildings and are well maintained.
Ilton, Ilminster, Somerset TA19 9EY
Phone 01460 929766, Mobile 07764 532832 Email: email@drakesfarm.co.uk
Draydon Farm
Dulverton, Somerset TA22 01398 324345
Ebborlands Farm & Riding Centre
Wookey Hole, Wells, Somerset BA5 1AY 01749 672550
Hill View Riding Centre
Sunnyside Farm, Portway, Crewkerne, Somerset TA18 8PA 01460 72731
Long Lane Riding Stables
Penselwood, Wincanton, Somerset BA9 8NJ 01747 840283
Mount Livery
Small family run yard. DIY / Assisted / Part or Full Livery available Superb rates offered. All stables are 12' x 12' American barn internal Monarch stables. All year quality turn out, in well fenced individual paddocks. Hay and straw available on site. Large 60ft round pen with rubber and sand surface Ample parking Secure tack room. Feed store Lighting and CCTV Excellent outriding - direct access to bridleways Many equestrian venues within sensible driving distance.
Mount Livery, Rodhuish, Somerset TA24 6QZ.
Please call: 07773334424 for more details.
New Farm
New Farm offers four full livery places. Horses and owners benefit from: Large, airy stables; 20 acres of year round turnout in safely fenced paddocks, for single horses or groups; individual management; 60x20m floodlit rubber arena and"Jump For Joy Fences"; good local hacking with several miles of bridleways; secure, alarmed and centrally heated tackroom; 24 hour supervision by experienced staff.
New Farm, Clevedon Lane, Clapton in Gordano, North Somerset BS20 7RJ
Phone: 01275 818558, Mobile: 07889 203903
email jo.sholl_evans@btinternet.com
Oakleaze Equestrian
Set in 170 acres, yet just 4 miles from Bristol centre, Oakleaze offers DIY, Part and Full livery. 24 hour staff, horse walker, floodlit arena, XC course, show jumps & 6 furlong grass gallop. Outriding around the farm, plus an additional 100 acres of amenity land, villages & bridleways. Also endurance training and Arabian Stud.

Phone: 0117 9864726, Mobile 07850 811296 email oakleaze@msn.com.
Oakleaze Farm, Stockwood Lane, Stockwood, Bristol, Avon BS14 8NE
Parkwood House Livery
•Security gates
•24 Hour supervision •Use of all equine facilities at Parkwood House Livery
•Professional, experienced staff
•High standards of turn-out and Stable management •Daily care of Horses •10 Superb heated boxes
•Separate Hay and Feed area •Heated and Alarmed Tack Room
•Heated Rug room •Turn out all year
•Horse Walker/Exerciser
•Log Jumps
•Large Manège
•Schooling tuition available at a fee
•Easy access to off-road riding

Parkwood House, Drayton, Langport, Somerset, TA10 0NG. Telephone : 01458 250 200
Periton Park Riding Stables
off Periton Road Middlecombe Minehead Somerset TA24 8SN 01643 705970
Pevlings Farm Riding and Livery Stables
Cabbage Lane Horsington Templecombe Somerset BA8 0DA 01963 370990
Redmond Bottom Farm - near Wells, Somerset
Full, Part and DIY Livery with abundant grazing
Anna-Clare Seymour, Redmond Bottom Farm, Marley Mead, Easton, Wells,
Somerset BA5 1DU Tel: 01749 677480 / Mobile: 07841 151280
email: a-c.seymour@uwclub.net
---
Somerset Livery yards, stables - DIY, Full, Grass and Part livery for horses