Turmeric - A natural anti-inflammatory medicine for Horses
Feeding Turmeric to horses as a supplement is becoming increasingly popular with horse owners in recent years.
It has been used since ancient times by ayurvedic healers to aid in the relief of pain and stiffness.
Now many horse owners are now discovering the benefits of feeding this aromatic spice as a natural remedy and are seeing improvements in their horses health and well being.
9 REASONS TO FEED TURMERIC TO YOUR HORSE
Turmeric is believed to have many beneficial effects for horses and ponies including:
Being a strong anti-inflammatory agent it can help to ease stiffness and pain in joints from conditions such as arthritis.
Reduces soft tissue swelling
It is believed to increase gastric wall mucous which may have a protective effect on the stomach wall. This could support the horse's digestive system and help to heal ulcers in the horse's gut
Is a strong antioxidant
It is believed to assist in alleviating skin irritations
Can help to heal Sarcoids
Supports a healthy immune system.
Supports the horse's respiratory system
Promotes general health when used as a general tonic for older horses
WHAT IS TURMERIC?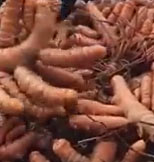 Turmeric, curcuma longa, is an aromatic spice that is widely used in asian cooking and is regarded as an important ayurvedic medicinal herb.

It is a rhizome which resembles ginger. Turmeric powder is extracted from the rhizome as a bright golden yellow powder. The bright yellow colouring is due to the presence of curcuminoids.
These curcuminoids are constituents of turmeric that exert several biological actions.
Curcumin is the most recognised active constituent of turmeric and is a powerful anti-oxidant.
WHAT IS TURMERIC USED FOR?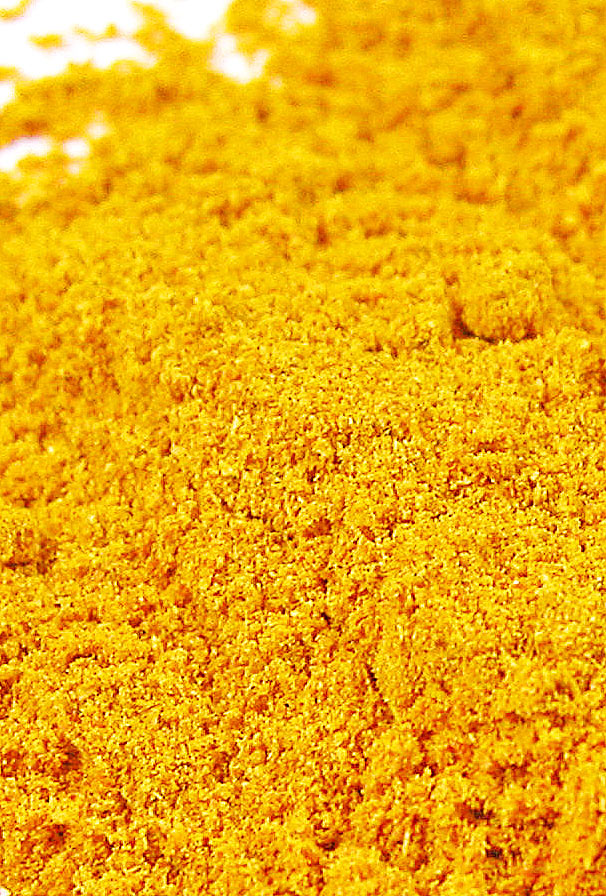 Turmeric has long been prevalent in ancient Indian and Chinese medicines as a powerful anti-inflammatory and anti-oxidant used by people suffering from a wide range of conditions, including diarrhoea, respiratory infections, sarcoids, dermatitis, and even cancerous tumours.
Turmeric is suitable for horses suffering from stiff joints and itchy skin conditions, as well as offering support to the digestive system.
A lot of people feed it to provide support to horses whose joints are under stress.
HOW SHOULD TURMERIC BE FED TO A HORSE OR PONY?
There are a few ways to feed Turmeric as a supplement to your horse or pony's feed.
Unfortunately, turmeric has poor poor bioavailability and water solubility. This means that just adding the yellow dried turmeric powder into your horse's feed is unlikely to result in much actual curcumin entering the blood stream.

The easiest, and by far the least messy, method of feeding turmeric is to buy a prepared supplement manufactured by a reputable company.
There are several of these now available, which can be purchased online or from your local horse feed supplier.
Or you can feed the raw turmeric powder mixed with oils and black pepper.
The best way to feed a turmeric supplement is to feed little and often. This is because turmeric does not remain in the system fo more than a few hours.

Commercial turmeric capsules/pills developed for human use are NOT RECOMMENDED for use with horses or ponies.
MIXING YOU OWN TURMERIC SUPPLEMENTS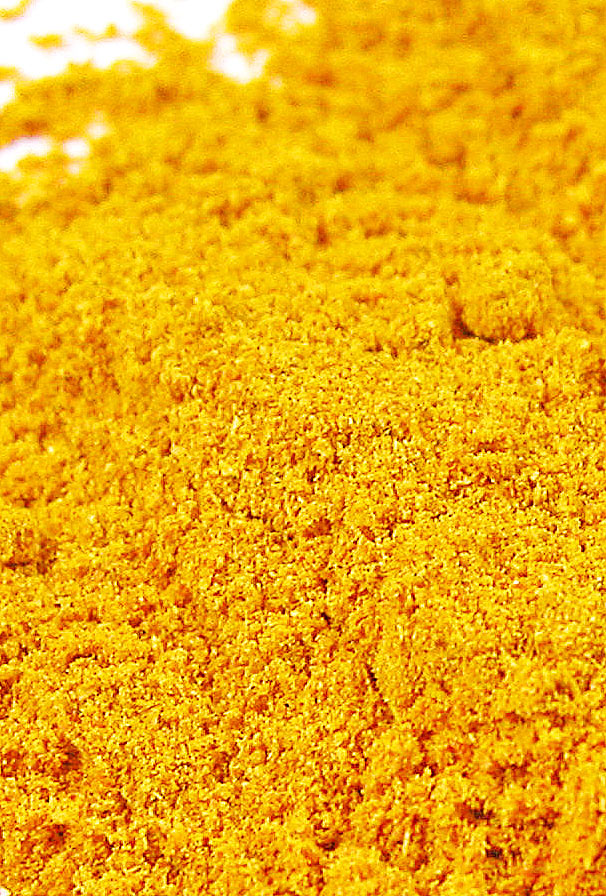 If you feed the raw turmeric powder it is important to also add ingredients which will help with absorption and enable your horse to gain some benefits from the turmeric.

It is recommended the turmeric is mixed with an oil. Linseed, olive and coconut are all good oils to use . Linseed is also good for the joints and coat as it is rich in omega oils.
The addition of black pepper will also help to make the circumin in the turmeric more bio-available. It is important that the black pepper is freshly ground as piperine, the active ingredient, is highly volatile and quickly loses its effictiveness.
Mix the ingredients in the ratio of 10 mls turmeric with 5 – 10 mls oil and a teaspoon of freshly ground black pepper. Add some water and blend into a paste that you can add mixed into your horse's feed.
It is advisble to wear gloves when doing this and to protect the surface that you are working on. Turmeric is notorious for leaving leaving bright yellow stains which are difficult to remove!
HOW MUCH TURMERIC TO FEED A HORSE DAILY?
The quantity of turmeric really depends on size of your horse. If buying a commercially prepared supplement then follow the manufacturers instructions.
If mixing your own ingredients then for a horse of about 500kg, it is suggested that a heaped tablespoon of turmeric per day, mixed into a paste as described above, is sufficient.
As with all new feedstuffs, turmeric should be slowly introduced into the horse's diet. Build this up slowly over a week or two.
If you horse does not like the taste of turmeric then adding apple juice to its feed may help to make it more palatable.
Observe how horse responds to the addition of turmeric to its diet and adjust the dose up or down accordingly.
CLINICAL TRIALS OF USE OF TURMERIC FOR HORSES
Although widely studied in humans, it is worth noting that, at the time of writing, there have not been any significant clinical trials to determine turmeric's effectiveness in treating horses.
But study on humans shows that curcumin's painkilling and anti-inflammatory effect is comparable to phenylbutazone or Bute that is generally administered to horses for pain killing.
LONG TERM EFFECTS OF FEEDING TURMERIC TO HORSES
Curcumin, the active ingredient of turmeric, can affect iron metabolism in a horse's body. This could contribute to the development of anaemia.
As such, feeding turmeric to horses with any kind of chronic disease or anaemia is not generally advisable.
If you have any doubts about feeding turmeric to your horse, or have any worries about his health it is important that you contact you vet and get a professional opinion.
---
---
Learn about the benefits of feeding turmeric to horses. How much turmeric to feed. Mixing your own turmeric supplements.