Dehydraton in Horses, Causes, Symptoms, Treatment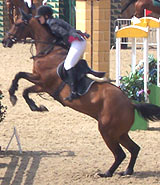 A horse or pony needs to be able to access a supply of fresh, clean drinking water at all times. If this is not available the horse may become dangerously dehydrated.
Dehydration is a loss of the horse's body fluids a of more than 5 percent of its body weight.
A loss of 12 - 15 percent of a horse's body weight in water is potentially life-threatening.
A Horse or pony loses fluids continuously through sweat, urination and defecation.
Normally, the horse will replace these fluids by drinking water.
However, at times the amount of fluid loss is excessive and quick, making it difficult for the horse to regain enough fluids to prevent dehydration
SYMPTOMS OF DEHYDRATION IN A HORSE OR PONY
If you suspect that your horse is dehydrated pinch a fold of its skin. A fold of the horse's skin pinched up will be slow to flatten out ifit is dehydrated.
After exercise, if dehydrated, the horse is slow to recover its normal pulse and respiration rate.
A dehydrated horse or pony is dull and lethargic.
Prolonged stress such as a long journey or an endurance ride in hot weather can produce an audible diaphragm spasm (the thumps'). This is a serious condition, the horse being near collapse, and it needs urgent veterinary attention.
CAUSES OF DEHYDRATON IN A HORSE OR PONY
Equine dehydration can be caused by a shortage of water for drinking, or the horse not drinking enough, or loss of fluid through scouring or excessive sweating from exertion during exercise, travel in a confined space, or fever.
TREATMENT OF DEHYDARATION IN A HORSE OR PONY
Ensure that the horse normally has access to water at all times.
Check that the water is pleasant for the horse.
Salt in feed may encourage the horse or pony to drink more.
The cause of any scouring or looseness in the horse's droppings must be treated.
Dehydration symptoms after exercise require less than a half bucket of water, preferably containing a large pinch of salt and with glucose added. This is repeated at 10-minute intervals until the horse's thirst is satisfied.
Electrolytes may also be offered as a drink in water, but in severe cases may have to be given intravenously to the horse by the vet.
---
---
Dehydration in Horses, Causes, Symptoms, Treatment of a dehydrated horse or pony