Some Famous & Infamous Victorian Horse Jumping Feats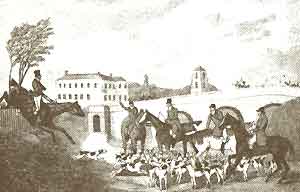 "Mad Jack" Mytton jumping the spiked
railings of Lord Berwick's Park
During the Victorian era there seemed to be much competition to perform "miraculous feats of equestrianism ".
Hundreds of pounds would be wagered on the outcome of attempts at seemingly impossible horse jumping feats.
The most famous of these famous Victorian horsemen was "Mad Jack" Mytton from Shropshire.
On one occasion "Mad Jack", following a severe fall from a horse on the hunting field on the previous day, jumped his one eyed hunter "Baronet" over the spiked railings of Lord Berwick's Park without injury to himself or, more fortunately, his horse. This was achieved despite Jack Mytton riding with his right arm in a sling.
He also jumped this same horse, in cold blood, over the River Perry - the distance measured 9 yards.
On an earlier occasion whilst in the 7th Hussars, again riding the bold horse "Baronet, over the mess table laid for dinner. This equestrian jumping feat was equalled, if not excelled, 35 years later when a farmer, Mr Manning, from Aylesbury in Buckinghamshire jumped a grey horse owned by a Mr Charles Symonds of Oxford over the dining table - candles, bottles and all - without a saddle or bridle and using only a halter to control the horse.
The same farmer , Mr Manning, who came from a well known sporting family, also responded to a wager from Lord Waterford that he would ride his horse, John Juan over a 5 barred gate placed across the dining room at Lowesby Hall. He succeeded!
Another hard riding farmer, "Bruiser" Woodward from Crome rode his 4 year old, in a halter, over the high rails in Croome Old Park - carrying a 14lb leg of mutton. The loser had to pay for the joint and also foot the bill for having it roasted at the Boar's Head Inn in Severn Stoke.
Count Sandor (nicknamed the Horseman from Hell) was a hungarian nobleman who hunted in Leicestershire for the season of 1829 jumped his mare "Mother Goose" over the iron railings in Hyde Park.
Whilst out hunting Count Sandor was seen to clear a flock of sheep, a stile and a long footbridge on his horse - landing well into the next field.
Another of Count Sandor's equestrian feats was to jump over 4 drawn swords held shoulder high by 4 officers. Luckily horse and rider survived. He also thought nothing of jumping over doors and through windows; and its said that he cleared a flooded brook measuring over 31 ft wide whilst riding in the steeplechase at Pardebitz.
The best known water jump is named after Captain Becher who gave his name to the celebrated "Becher's Brook" at Aintree.
In 1847 Captain Little's horse Chandler broke the record for a long jump by a horse in Great Britain by cxlearing 37 foot over a brook during a steeplechase at Leamington.
Thomas Assheton-Smith (named "The FieldMarshal of Foxhuntiong" by the Duke of Wellington) accomplished an amazing jump in Lincolshire whilst out hunting. Hounds crossed a navigable canal called The Fosdyke over which there were two adjacent bridges, a bridlebridge and one for carts. Mr Smith rode on to one bridge only to find it locked. He turned his horse and jumped over the rails from one bridge to the next!