Farriers in SURREY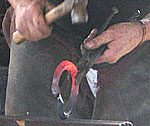 To help you find a Farrier in Surrey for shoeing your horse, remedial work, hoof trimming or barefoot care we have listings for Farriers in Surrey.
When choosing a farrier in the initial consultation, perhaps by phone or in person at the first shoeing appointment, your prospective farrier be interested in what you have to say about the care of your horse's feet. Don't be afraid to ask questions about how the farrier intends to shoe the horse, and then listen carefully to the answers.
TIP: Many farriers now sell horse hoof dressings and supplements - ask your farrier to recommend one to help to maintain your horse's hooves in the best condition and prevent dry brittle feet.
Adrian Devereux - AWCF - Surrey
4 Broadwater Lane, Farncombe, Surrey GU7 3JQ email: devereux64@live.co.uk
Allpass Farriers - Redhill
Owned and run by Morten Allpass, Dip WCF . Covers most of the county of Surrey and around the Kent and West Sussex borders, in approximately a 30 mile radius from Redhill in Surrey.
35 Kingfisher Drive, Redhill, Surrey, RH1 2AD Tel: 07846 262637
Coopers the Farriers Ltd - Dorking
Aldhurst Farm, Temple Lane, Capel, Dorking, Surrey RH5 5HJ Phone : 01306 710594
Daniel Hewer [DipWCF] - Effingham
19a Norwood Close, Effingham, Surrey KT24 5NY
Phone: 01372 458953, Mobile : 07979 312103 E-mail: daniel.farrier@hotmail.co.uk
Daniel Hilldrup [DipWCF] - Dorking
15 Nursery Close, Capel, Dorking, Surrey, RH5 5JU
Phone: 01306 712664, Mobile: 07922 020620 email: daniel_hilldrup@yahoo.com
David Garland - AFCL BI - Ashtead

40 Read Road, Ashtead, Surrey, KT21 2HS
Phone: 01372 277087 email: david.garland4@btopenworld.com
David Manning - DipWCF - Mayford
Little Barn, Heathfield Farm, Mayford, Surrey, GU22 0RG Mob: 07769 856541 E-mail: dmanningfarrierltd@hotmail.co.uk
Edward Charles Macdowell [DipWC] - Hampton Court
Kings Chase Lodge, Hampton Court Road, Hampton Court, Surrey, KT8 9BZ
Howard Cooper - FWCF Hons - Dorking
The Forge, Abinger Hammer, Dorking, Surrey RH5 6SG Telephone: 01306 611030
Jake Gregory - DipWCF - Cobham
Bookham Lodge Stud, Cobham Road, Stoke D'Abernon, Cobham, Surrey KT11 3QJ
Phone: 01932 867797 Mobile: 07881 904454 email: jakethefarrier@btinternet.com
Jay Owen Shury [DipWCF] - West Molesey
7 Molesey Avenue, West Molesey, Surrey, KT8 2EU
Tel: 0208 941 5178 Mob: 07854 907321 E-mail: j.shury@hotmail.co.uk
Jesse Gregory - DipWCF - Cobham
Bookham Lodge Stud, Cobham Road, Stoke D'Abernon, Cobham, Surrey KT11 3QJ
Phone 01932 867797 Mobile: 07903 151148 email: jesseandjane@btinternet.com
John Thomas Richard Becker - Thorpe
3 Giles Travers Close, Thorpe, Surrey, TW20 8UQ Tel: 01932 565204
John David Collister - Chobham
Chobham Forge, Burrow Hill Green, Chobham, Surrey, GU24 8QP Tel: 01276 858416
John Whitaker - DipWCF - Guildford
2 New Cottages, Sutton Green, Guildford GU4 7QD Contact Number: 01483 720641
Mark Anthony Farriery - Chessington
Registered Farrier offering hot and cold shoeing, remedial farriery and barefoot management.
117 Fullers Way South, Chessington KT9 1HA
Tel: 07966 263 191 Mobile: 07966 263191
Michael Johnson - DipWCF - Cobham
Woodlands Park & Orchard Stables, Woodlands Lane, Stoke D'Abernon,
Cobham, Surrey KT11 3QA Phone: 07875 059219 email: 82mick@live.co.uk
Mr Mickielee Desmond Parker - DipWCF
1 Larchwood Drive, Englefield Green, Surrey, TW20 0SQ Mob: 07946231933 E-mail: mickielee85@hotmail.com
M J Farriers
Mike Jones Dip WCF. 2005 - 2008 Farrier to H.M. The Queen. Professional Farriery Service providing specialist and remedial shoeing including natural balance shoeing as well as regular trimming and shoeing. Covers Surrey and surrounding areas.
Phone 01483 200083 or 07500 334175
M Taylor - Hindhead
Hilltop Beacon Hill Road, Hindhead, Surrey,GU26 6QD
Telephone: 07831 836932
Oliver William Smith, Farrier - Betchworth
Wonham Wood Cottage Wonham Lane, Betchworth, Surrey RH3 7AD
Phone: 07541 307589
Paul Ibbotson [AWCF ] Tadworth
23 Walton Street, Walton on the Hill, Tadworth KT20 7RR
Phone: 01737 813120 Mobile: 07710 348566
email: paulibbotson@mac.com
Paul King - [DipWCF] - Betchworth
The Hollies, Leigh Road, Betchworth, Surrey, RH3 7AW Tel: 01306 611674
Raymond York - Cobham
Newmarsh Farm, Horsley Road, Cobham, Surrey, KT11 3JX Phone: 01932 863594
Robert Gregory [DipWCF] - Cobham
Bookham Lodge Stud, Cobham Road, Stoke D'Abernon, Cobham, Surrey, KT11 3QJ
Phone: 01932 589698 Mobile: 07931 747978
Shaun Measures - Camberley
14 Epsom Close, Camberley, Surrey, GU15 4LT Tel: 01276 500404 Mob: 07973 205244 Fax: 01276 500404 E-mail: farrier@ntlworld.com
Shoefree Natural Hoof Care - Reigate
For performance without shoes - Barefoot hoof care for improved hoof health and better circulation makingy our horse more surefooted and with better traction.
Liz Chapman: Clearways Colley Way, Reigate, Surrey, RH2 9JH
Telephone: 07906 860756 email: info@shoefree.co.uk
Thomas Dale [AFCL (Hons)] - Guildford
Southern Cottage Pursers Lane, Peaslake, Guildford, Surrey, GU5 9SJ
Tel: 01306 730159
Thomas Alan Gray [DipWCF] - Chertsey
Trys Hill Farm, Lyne Lane, Lyne, Chertsey, Surrey, KT16 0AJ Tel: 01932 873707 Mob: 07748 207037
T J C Shoeing - Wallington
7 Bute Gardens West, Wallington, Surrey, SM6 8SP Phone: 0208 647 1068
William Charles Beach [DipWCF] - Egham
Miles Hurst Lodge, Hurst Lane, Egham, Surrey, TW20 8QJ Tel: 01344 842565 Mob: 07932 622906 E-mail: nicola@k-c-a.co.uk
Farriers in Surrey, a guide to where to find a good farrier to shoe your horse in Surrey.